Posts tagged
family
2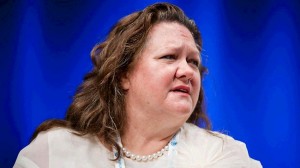 The Rinehart famly saga proves there's no automatic bliss for billionaires
IN the wake of the Rinehart family brawl, it's obvious to onlookers that there's no correlation between money and happiness. While most of us ponder the thrill that can come from having trough- loads of moolah, and indeed of power, the cost can often be huge.
Australia's wealthiest person Gina Rinehart's three eldest children have launched very public, very bitter action against her in court. The family feud is over ownership of the trust set up by their grandfather, Lang Hancock, for his grandchildren.
In the 1980s I wrote a bestseller, The New Boy Network, about the rich and powerful who dominated our business scene. The premise of the book was that the subjects all came from immigrant backgrounds and were self-made millionaires and billionaires. (more…)
100
Do friends/family and our partners ever have a right to criticise, or interfere if not invited? Share your stories.

A FRIEND recently stood in open judgment of me. She criticised my parenting without invitation. She'd clearly felt the way she did for a long time, given her eloquence. She also chimed in that "other people" had agreed with her, which clearly buoyed her up enough to liberally share her views.
For a few days I stewed about it, then decided it was a topic worthy of public debate. To what extent are people entitled to intrude on our lives and pass judgment or offer righteous advice on the decisions we make? I mean if our children's lives are not at stake and we're not heroin addicts. (more…)