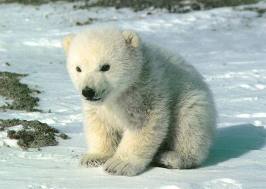 Animals are instantly killed for attacking people in the wild, recently 3 bear cubs. It's unjust.
THERE have been several incidents of animals attacking humans recently. Several shark attacks; two incidents involving bears — one a polar bear attacking a young camper, and another bear and her cubs in Russia eating a young woman; there have been a spate of dog attacks; and elephants and tigers on rampages in India.
After most incidents the animals were shot dead. Even the bear cubs were shot for doing what their mum showed them to do.
I went into a state of grief over the shooting of the cubs and again with the polar bear, rare and precious as they now are. It's not that I don't feel profound grief for the parents of the children killed. As a mother of a teenager, my horror at the death of a child is unquestioned.
But where's the justice? When people kill, they are given a fair trial. The judge hears about mitigating circumstances before a death sentence is pronounced. So let me argue for the animals.
''Your honour, we are starving. There are no more fish in our seas. We see something moving that looks like a seal in deep waters, and we rush for it . . .''
''There's no more food, our polar ice- caps are melting due to pollution and human detritus. We see movement. We don't know that it's a young man of 16 on camp. . .''
''My stomach was rumbling, my cubs were starving. I smelled food, my adrenalin shot through the roof.''
''Your honour, I know that I behaved like 'a wild animal', but I was furious, cooped up all day thanks to my owner. I'm not a domestic dog bred for captivity. I'm a pit bull. Suddenly, he's forgotten to lock the door and I bolt out…''
''They've built cities where I live; they've encroached on my habitat. My survival is threatened. Where can I run?''
We deprive animals of their land, food or freedom, then wander carelessly into their terrain. If you put your hand in a hungry lion's cage, he'll bite. Is it then fair you shoot him? Who's responsible for these attacks? Not those poor children, so tragically killed. But we humans, as a species, are to blame for ignoring the fact we share this world with magnificent creatures who have rights, and have aggressive instincts.
His honour decides the animals' fate: ''Death by firing squad!''
Well, judge and jurors, I'm off to Africa at the end of the year. I want to come home in peace, not pieces. But if an animal eats me while I roam his terrain,
I just want you to know that I won't be surprised he's not following the 2011 guide to dining etiquette.
Share your views.
Full story The Australian